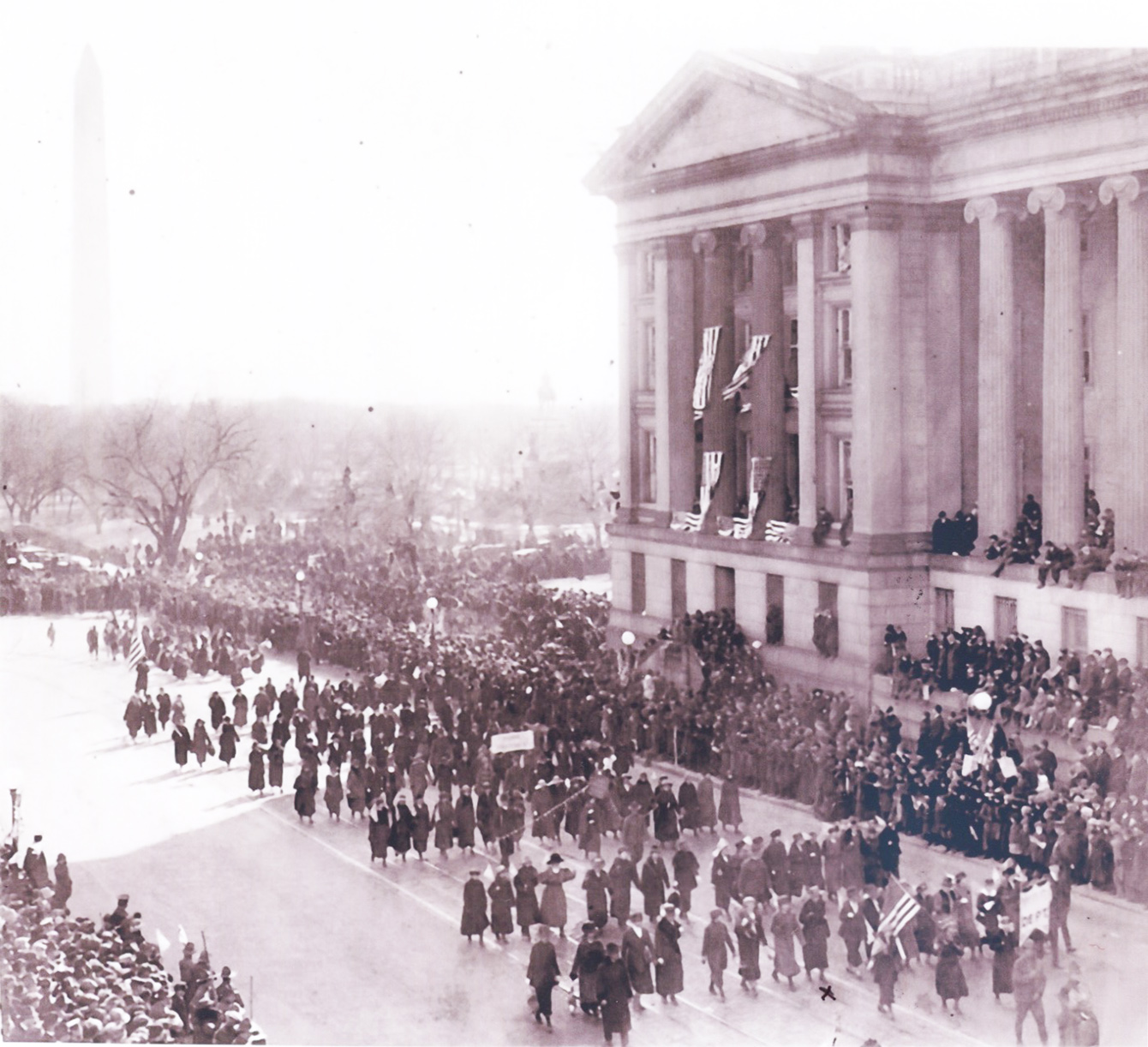 Ella P. Jordan Dale marches in a parade in Washington, D.C. in 1919 celebrating the end of World War i. She is just behind the flag in the lower right, with an X marked at her feet.
My grandmother's "4th English" notebook has dark green fabric covers. The lined pages inside are covered with ornate penmanship, and the assembly is held together by a long black lace threaded through holes in the paper, and rivets in the cover, and tied in a bow. At the end, I find her high school valedictory speech, delivered one hundred years ago, in 1917 in Mossyrock, Washington, a town near Mount St. Helens where her parents bought a farm in the 1890s.
Just after the buoyant words of that address, the final notebook page offers an entry titled "Loneliness." The two essays could not be more different. A gulf lies between the public words my grandmother, Ella Pearl Jordan, spoke at graduation, and the private anguish she confessed in that final note.
War was looming then, and worry and uncertainty seep through her Copperplate, black-inked sentences. The United States was about to enter World War I, and President Woodrow Wilson had a major task in not just leading the war effort, but persuading the country to support it. He had set up the Committees for Public Instruction, whose staff blanketed the country giving four-minute speeches exhorting the public in favor of war.
Earlier in the notebook—among a reading list, literary criticisms, and exercises on rhetoric and oratory—are two debate topics for my grandmother's senior year:
"Resolved: That president Wilson has brought our nation thru a greater crisis than did President Lincoln." Research covers a wide range of topics: war and preparation for war, the national reserve bank and bank panics, bird migration in Canada, labor relations, and averting a railroad strike.
Also, "Resolved: That a system of compulsory military training of the equivalent of not less than two hours per week should be introduced into our public high schools of the state of Washington having an enrollment of twenty boys."
These likely date from earlier in 1917, for by mid-year and well into 1918, dissent suggested by such debates was not being tolerated. After Congress passed the Espionage Act, it added provisions known as the Sedition Act, which made it a crime to speak or write against the government's war efforts, or in favor of socialism or bolshevism, or even organized labor. Under these acts, two thousand Americans would be prosecuted, and about nine hundred convicted, imprisoned and fined; hundreds of immigrants would be detained and deported.
Did this climate of growing intolerance affect what my grandmother felt she could say at the commencement ceremonies? I wish I could ask her.
Her speech begins and ends by quoting poet Henry Wadsworth Longfellow as she exhorts her fellow graduates—all six of them—to future achievement and adventure. After reciting, "No endeavor is in vain / Its reward is in the doing, / And the rapture in pursuing / Is the prize the vanquished gain," she says:
"The reward of our efforts of the past four years lives in the pleasure and satisfaction that we have to so great a degree fitted ourselves for living lives of usefulness and power. … What life holds in store for us we dare not dream. … Our lives will be just what we make them. We shall succeed just in proportion as we merit promotion."
Then Ella mentions times when students rode on horseback or walked miles to get to school, adding, "At times we wondered if the struggle was worth it." And she gives tribute to the families who supported their children.
After several paragraphs reviewing sacrifices made by previous generations in earlier wars, Ella says it is now her generation's turn: "The present war is one for democracy and humanity. Are we willing to give our lives, if necessary, to promote the cause? The outcome of the conflict rests upon our shoulders. May the people of this community and the class of 1917 esteem it not only a duty, but their privilege to cheerfully and uncomplainingly make these sacrifices, as did our forefathers, that our posterity may enjoy the blessings we have cherished."
Ella soon would follow her own admonitions, for after graduating, she went to Washington, D.C. and took a job working with overseas cables in General Pershing's office. I have a photo of the victory parade at the end of the war in 1919, and my grandmother is right at the front, celebrating with everyone else.
Yet during this time, what was the private Ella thinking? Though her speech anticipated "lives of usefulness and power," that confidence eludes her in that final essay.
Loneliness
I feel a restlessness within my breast. Something within me seems to reach out and grope for some indefinite thing – I know not what. I seek an occupation, but if I undertake a task, I seem to realize its emptiness.
A wave of anguish sweeps o'er me – perhaps a thot of an absent one. My thots go back to the past, recalling each pleasant scene and living it over step by step.
Now a passion of infinite longing creeps into my being and fills my heart with a desire for the greater and higher things of this life, and I make a pledge within me to accomplish something in this world worth while.
Then the path before me seems as one of desolation – despair. Again a thot of all things good making that path seem brighter, and I look into the future with a hope and a silent prayer and my heart reaches out in sympathy with better understanding of my fellow beings.
The overwhelming sadness reaches across the century between us. Given the longing to find one's true life work, I'm reassured that Ella did find herself as a writer of wonderful essays, stories, and a memoir. Also, I suspect that eighteen-year old girl was missing an actual person, given her anguish over "an absent one."
Something universal also lies in that wide gulf between Ella's public confidence and private despair while seeking a way to make her life worthwhile—between the desire for the "higher things of this life," and the seeming emptiness of tasks at hand.
When I think of how people have exhorted each other to war during my lifetime, I wish their public proclamations had been fuller, deeper, and more honest, that they had included such private elements as doubt and despair. Maybe we could have lessened the conflict in Vietnam, and the wars in the Persian Gulf.
We have had more rights to protest those wars because the people who fought against the repressions of the Sedition Act won greater guarantees for free speech. The law was repealed after three years, and through court cases trying it, the U.S. Supreme Court began to define sedition as not merely speech about abstract ideas. Instead, to be punished as sedition, the speech must advocate immediate action to commit a crime.
Back when my grandmother spoke at commencement, hardly any protections existed for someone who dissented from the government's pursuit of war. She could hardly have spoken otherwise than she did, and I sympathize. Some of the thousands of speakers and writers who were prosecuted under the Sedition Act were ordinary folks who wrote critical letters to newspapers, the sort of thing we take for granted, now.
I am truly impressed by the rhythm, cadence, and logical flow of Ella's writing, and her notebook record studies of "the classics" and extensive lessons in rhetoric, oratory, grammar, poetry, and exposition. Here is an Expository theme:
"Every high school pupil should have composition drill because it makes him think clearly. … By being clear-thinkers, people demand higher wage for their labors, than those who have not had such drill. Statistics show that pupils having had work along this line are able to meet the problems of everyday life with greater accuracy and alertness, because they were taught when young to think things out for themselves."
How I wish Ella's private practice of thinking things out weren't so divided from the public performance of conventional thoughts. I think we've made progress over a century in more easily and openly weaving our private and public lives together.
As I close the notebook, with its red-and-white label reading "Ella Jordan, 4th English," and carefully align its softening pages, I think we can still take a page from it on the value of clear writing as a way toward thinking for oneself—and speaking that truth.